Hot Sauce Challenge Pack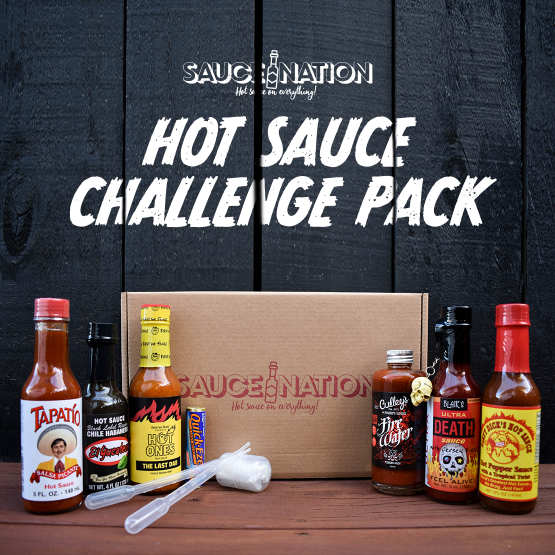 Heat Scale
Heat level is an approximation of the Scoville Unit Rating. It's a measure of capsaicin, the chemical in peppers responsible for their heat.
Insprired by Sean Evans Hot Ones show on youtube. We at Saucenation have come up with a hot sauce challenge pack consisting of close to 2million scovillies units. Put your taste buds (and your friends') to the test with the SauceNation hot sauce challenge pack. Perfect challenge for stags and hens nights, parties, work parties.
Included in this pack.
Gloves
3ml Disposable transfer pipettes
Hot sauces
Quick – Eze (to help eze the burn)
Instructions for the challenge.
Hot sauces included in this pack....
Tapatio - 3,000 Scoville Units
El Yucateco Black reserve - 9,000 Scoville Units
Blairs Original - 35,000 Scoville Units (Please not we are out of Dirty Dicks - 21,000 Scoville Units)
Culleys Fire Water - 112,000 Scoville Units
Blair's Ultra Hot sauce - 800,000 Scoville Units
The Last Dab - 1,000,000 Scoville Units
Scoville units are approximate
PLEASE NOTE Dirty Dicks is not included in this pack as shown in the pic.
Brand:
Hot One's
Heat Scale:
1000000
Weight:
0kg
Availability:
Out Of Stock
Ingredients:
varies per bottle
or 4 interest free payments of 25% on orders over $50
Learn more
Previously PartPay
Back ToChilli Extracts