THE WORLDS HOTTEST CORN CHIPS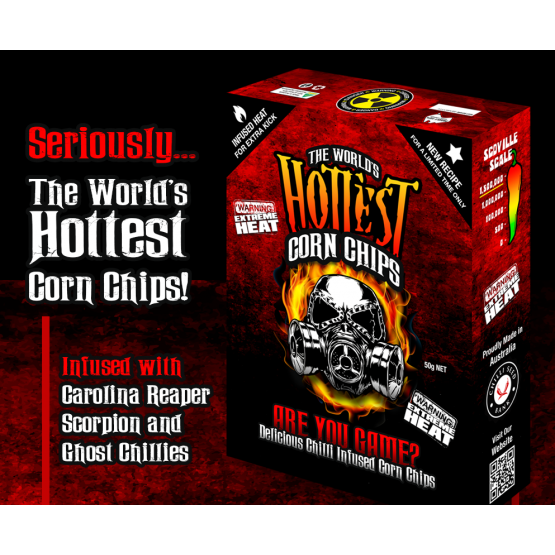 Heat Scale
Heat level is an approximation of the Scoville Unit Rating. It's a measure of capsaicin, the chemical in peppers responsible for their heat.
The World's Hottest Corn Chips from Chill Seed Bank are infused with their own triple pressed, A-grade Carolina Reaper, Scorpion and Bhut Jolokia puree, and finished with a dusting of Carolina Reaper powder to deliver explosive heat! They are the world's hottest, after all.

All Corn Chips are infused with our super-hot puree, seasoned to perfection, and topped off with a dusting of Carolina Reaper powder for good measure!

Packaged in a resealable bag – because let's be honest, chances are you won't be able to finish the bag in one sitting, but we dare ya to try!

PLEASE NOTE - This is a dangerously hot food product and must be consumed responsibly R18. Do not feed to kids or animals.
50GM
Heat Scale:1500000
Weight:49g
Availability:In Stock
Ingredients:
Wholegrain Australian Corn, Vegetable oil, Carolina Reaper Chilli, Scorpion Chilli, Bhut Jolokia Chilli, Citric Acid, Sugar, Paprika, Dehydrated Vegetables (Tomato, Garlic, Onion), Salt.
or 4 interest free payments of 25% on orders over $50
Learn more
Previously PartPay
Back ToOther