Pappy's Hottest Ride in Town Barbeque Sauce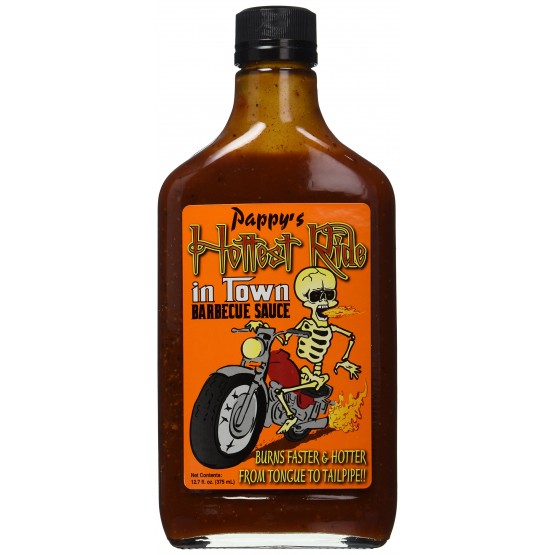 Heat Scale
Heat level is an approximation of the Scoville Unit Rating. It's a measure of capsaicin, the chemical in peppers responsible for their heat.
Pappy's Hottest Ride in Town Barbecue Sauce (12 fl.oz. / 375ml): It burns faster and hotter, from tongue to tailpipe. It pains me to make a BBQ Sauce so stupidly hot that even I can't eat and that you shouldn't.
Brand:
Pappy's
Heat Scale:
1
Weight:
375ml
Availability:
Out Of Stock
Ingredients:
Tomato Sauce (Water, Tomato Paste, Salt), Sugar, Vinegar, Fresh Garlic, Fresh Onion, Chile Pepper, Paprika, Modified Food Starch, Natural Hickory Flavoring, Oil of Capsicum, Kentucky Bourbon (3% by volume), Worcestershire Sauce (Distilled Vinegar, Molasses, Corn Syrup, Water, Salt, Caramel Color, Garlic Powder, Sugar, Spices, Anchovies and Natural Flavorings), Black Pepper, Xanthan Gum, Spices, Lemon Powder (Corn Syrup, Lemon Juice with added lemon oil), Habanero Pepper and Citric Acid.
or 4 interest free payments of 25% on orders over $50
Learn more
Previously PartPay
Back ToHot Sauces