Blair's Jersey Death 2.0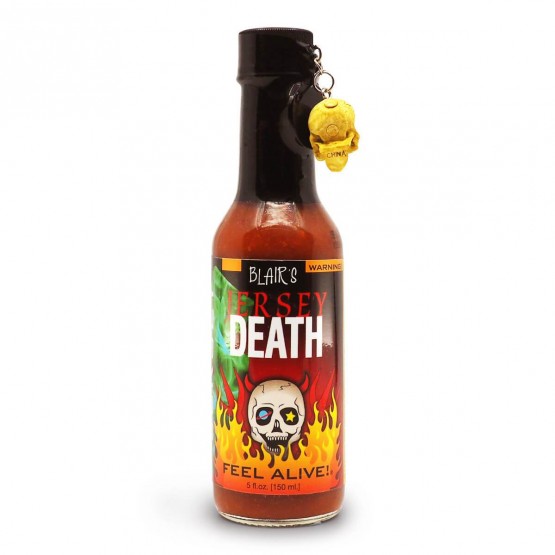 Heat Scale
Heat level is an approximation of the Scoville Unit Rating. It's a measure of capsaicin, the chemical in peppers responsible for their heat.
Hell just got a hell-of-a-lot hotter!! Made with fresh Jersey tomatoes, Carolina Reapers, and more to create a kick ass bottle of Jersey fury....like no other!!
Hotter than Blair's Ultra Death, THIS sauce is sure to bring you down to your knees.
Jersey Death 2.0 is available for a VERY limited time.
Heat Level: EXTREME (2,000,000 Scovilles)
Size: 150ml
BE WARNED: This sauce contains ingredients 900 times hotter than a jalapeno chilli. Use sparingly. Not recommended for use without dilution.

DISCLAIMER: This product contains the hottest known ingredients on the planet. Please use with extreme caution.
CONTAINS ABSOLUTELY NO PRESERVATIVES OR ARTIFICIAL INGREDIENTS
Brand:
Blair's
Heat Scale:
2,000,000.00
Weight:
0kg
Availability:
2-3 Days
Ingredients:
Ingredients: Red Habanero Pods, Cayenne Chillies, Carolina Reaper Pods, White Vinegar, Natural Chilli Flavour, Tomato Puree, Pirri Pirri Chillies, Lime Juice, Salt, Spices.
or 4 interest free payments of 25% on orders over $50
Learn more
Back ToXXXXtreme Sauces